Rakesh Jhunjhunwala is a man who needs no introduction.  He was born on 5th July 1960 in Mumbai. He was an Indian Businessman and investor who manages his own portfolio. Rakesh was a Chartered Accountant by qualification but an investor/trader by profession.
Today, he was an inspiration for all investors and traders who want to succeed in the Stock Market. He was very well known as Warren Buffet of India and also known as King of Dalal Street.
According to Forbes, Rakesh Jhunjhunwala is the #54  Richest man in India. He started his investment journey with Rs 5000 and earned money near about $3.1 Billion.
Let us check Inspiring quotes from the Warren Buffet of India- Rakesh Jhunjhunwala:
Best Rakesh Jhunjhunwala Quotes
1. You do not succeed without obsession.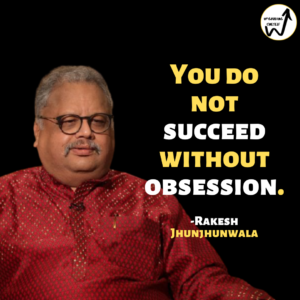 2. Markets are like women — always commanding, mysterious, unpredictable and volatile.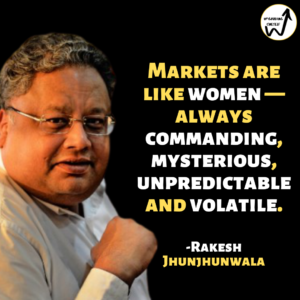 3. Growth comes out of chaos.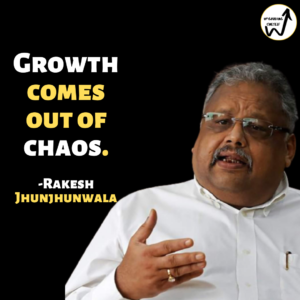 4. Build a fighting spirit — take the bad with the good.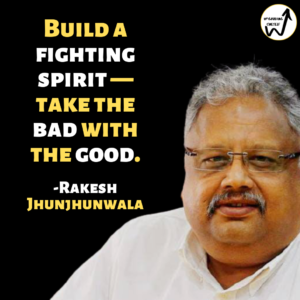 5. Prepare for losses. Losses are part and parcel of stock market investor life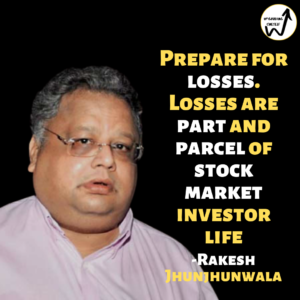 6. Always go against tide. Buy when others are selling and sell when others are buying.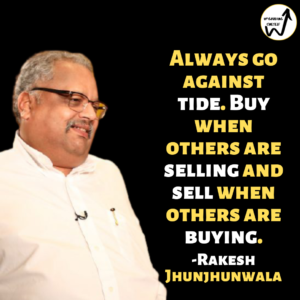 7. When opportunities come, they can come through technology, marketing, brands, value protections, capital, etc. You need to be able to spot those.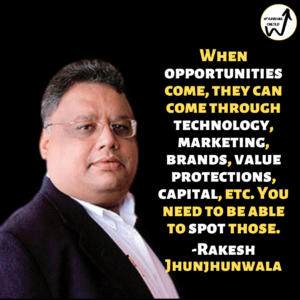 8. See the world as it is, rather than what you would like it to be.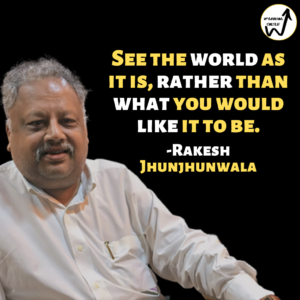 9. The prettiest part of the stock is that it has to be cheap – the entry point.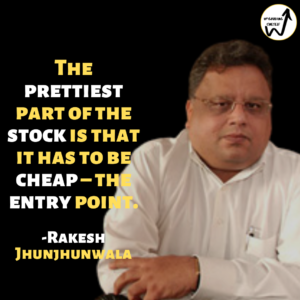 10. Whatever you can do or dream you can, begin it. Boldness has genius, power and magic in it.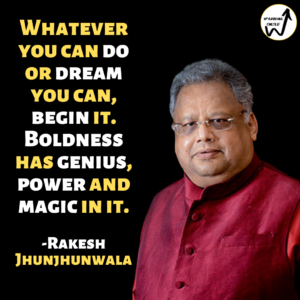 11. In commodities, when prices go up, demand goes down. In stocks, when prices go up, demand goes up.
12. I have far less than what people think but far more than I need.
13. The biggest quest to learn anything is curiosity. If you are curious about something, you will go and dig.
14. When there's doom and gloom, don't forget there's darkness before dawn.
15. I am extremely bullish in the longer period.
These were the best quotes from Rakesh Jhunjhunwala. Today, he holds stocks in Titan Company, Crisil Ltd, VIP Industries, NCC Ltd, Lupin Ltd, Tata Motors, etc. His biggest investment is in Titan Company which is Rupees 4758 Crores which is approximately 600 MILLION$.  I hope you liked this article and make sure to share it with your friends.
Check out the video about this content-
You can also check out articles from personalities like-