Ratan Tata is a man who need no introduction. He is former chairman of Tata groups and he is also successor the JRD Tata. Mr. Ratan Tata  is a well known Indian Industrialist, philanthropist, entrepreneur and investor. He is a not only rich in the terms of money but also rich from his kindness towards society.
Ratan Tata was the one who took Tata group to a global level and spread its business in more than 100 countries today. He has got highest civilian awards Padma Bhushan (2000) and Padma Vibhushan (2008). Under his leadership Tata Group has acquired companies like Jaguar Land Rover, Corus Steel, Tetley Tea, etc.
Today, He is an inspiration for all the youths and children. Let us check out 10 Inspiring Quotes from Ratan Tata-
1. Ups and downs in life are very important to keep us going, because a straight line even in an E.C.G means we are not alive.
Both Ups and downs are part of our life and both has there own importance. Without ups and downs life is nothing. We must always enjoy our ups and during downs we must learn from it. It helps us to grow and nurture.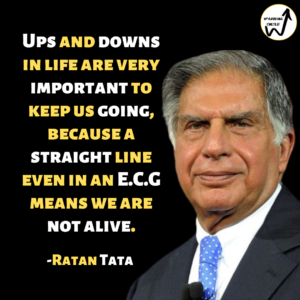 2. I don't believe in taking right decisions. I take decisions and then make them right.
You take any decision in your life but it's upon you to make it right by just doing it. If you believe that your decision is right it will be.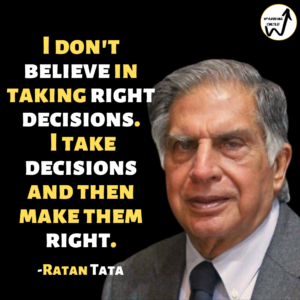 3. None can destroy iron, but its own rust can. Likewise, none can destroy a person, but his own mindset can.
Mindset is everything that's why you must always have a right mindset. Always have a good mindset and be positive.
4. Take the stones people throw at you. And use them to build a monument.
Criticism is really powerful either it makes you strong or weak. You must always take it to build yourself.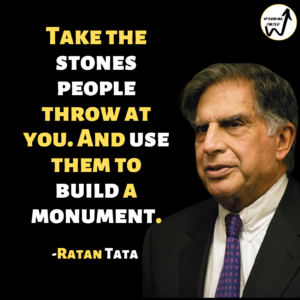 5. Don't be serious, enjoy life as it comes.
We all know that life is unfair, so don't try to run it according to your expectations. Enjoy it has it comes.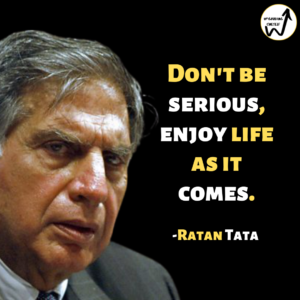 6. The day I am not able to fly will be a sad day for me.
We humans are never meant to be limited. We have an unlimited capabilities and we can do wonders in life.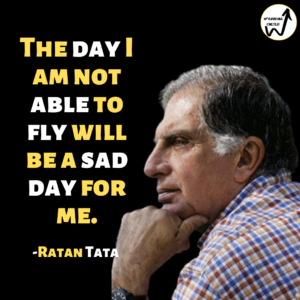 7. I may have hurt some people along the way, but I would like to be seen as somebody who has done his best to do the right thing for any situation and not compromised.
In life, you may hurt many people, but you must always do rights things whatever the situation it might be. He always stands for right things and  we all know that he donates almost 65% of his wealth to charity.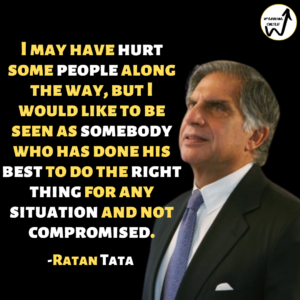 8. If you want to walk fast, walk alone. But if you want to walk far, walk together.
Team work is really important in any field. Team helps us to achieve heights which cannot be achieved by alone. Tata group always focuses on building a good culture in the organization which helps them to build quality relations and team bonding between everyone.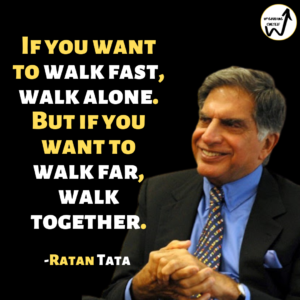 9. Power and wealth are not two of my main stakes.
Power and wealth are only things which people run behind. But these are not only important stakes but other things also matters like family, friends, mindfulness, etc.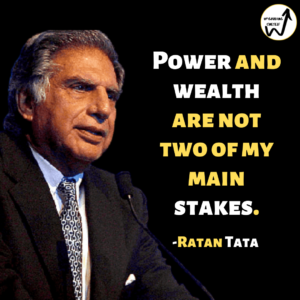 10. If there are challenges thrown across, then some interesting, innovative solutions are found. Without challenges, the tendency is to go on the same way.
Challenges are very important part of our life. Without challenges, the power of finding solutions and innovation cannot be found. Challenges makes us to do things out of box.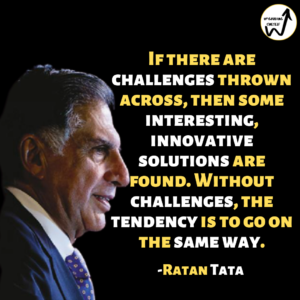 These were the best quotes of Ratan Tata. I hope you liked it.
Related–