The movie 'The Pursuit of Happyness' is one of the most touching,  inspiring, and realistic movies. This movie is based on the life of Chris Gardner. This movie is so well designed that it sticks in our mind and gives us an inspiration to all of us. This movie dramatizes the journey of Chris Gardner's life from homelessness to a successful stockbroker while supporting his young son as a single father. The IMDb rating of the movie is 8.
This film highlights the message of 'NEVER GIVE UP'.  Film showcase the struggle of everyday lives of father-son who faces issues of homelessness and financial difficulties. Yet, they find small bits of happiness in their life.
Let us have a glimpse over Quotes from The Pursuit of Happyness that will give you a different perspective on life-
1. Don't ever let someone tell you, you can't do something. You got a dream, you got to protect it. People can't do something themselves, they want to tell you you can't do it. You want something, go get it.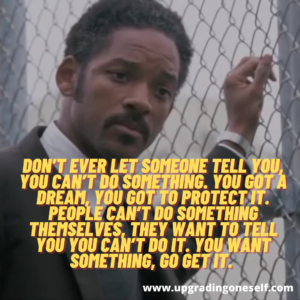 2. I am strong because I've been weak. I am fearless because I've been afraid. I am wise because I've been foolish.

3. The balance in your life is more important than the balance in your checking account.

4. There is no plan B for passion.

5. I was homeless, but I wasn't hopeless. I knew a better day was coming.

6. This part of my life… This part right here? This is called 'Happyness'.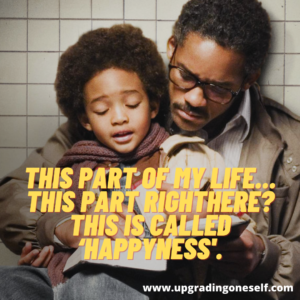 7. Probably means there's a good chance. Possibly means we might or we might not.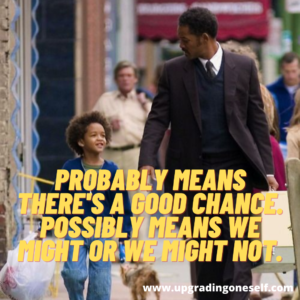 8. I am not what happened to me, I am what I choose to become.

9. Don't just talk that talk, walk it and go forward. Also, the walk didn't have to be long strides; baby steps counted too. Go forward.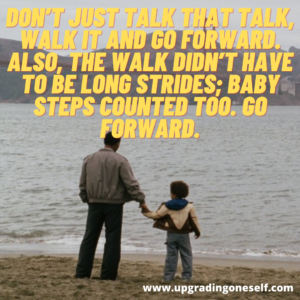 10. Maybe happiness is something that we can only pursue. And maybe we can actually never have it, no matter what.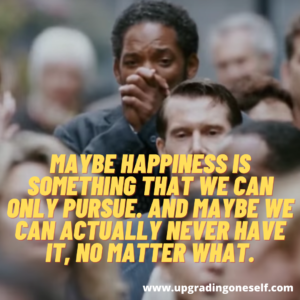 11. Others may look for all kinds of ways to diminish your worth. But what is inside you no one can take from you or tarnish.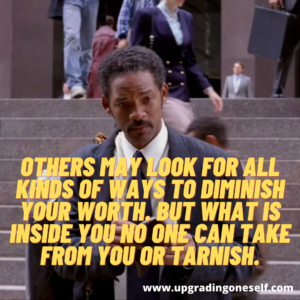 12. The important thing about the freedom train is it's got to climb mountains. We all have to climb mountains. Mountains that go way up high, and mountains that go deep and low.

These were the Quotes from the movie -' The Pursuit of Happyness'
So, if you are lacking motivation in your life, you must definitely watch this inspiring movie for inspiration. This movie is a must-watch movie for everyone who is struggling and finding happiness in their life.
Related- Quotes from Tony Stark
Quotes from Scam 1992- The Harshad Mehta Story