APJ Abdul Kalam was one of the greatest inspirations for the Youths. His journey from being a small boy who used to sell newspapers to becoming the President of India has inspired many of us. He was considered as The Missile Man of India who made it fly. He was an Indian scientist who played a significant role in developing some missiles and also nuclear tests. Dr. Kalam became the 11th President of India and was famously known as "People's President".  He was awarded Bharat Ratna which is  India's highest civilian honor by the Government of India in the year 1997. The Indian Youth was so connected with him and he has immense wisdom to share with them. Dr. Kalam has inspired us with many things.
Let us check out some of the great quotes from APJ Abdul Kalam which are full of wisdom-
1. Dream is not that which you see while sleeping it is something that does not let you sleep.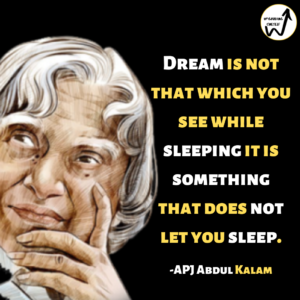 2. A Fool can become a Genius when he understands he is a Fool but. A Genius can become a Fool when he understands he is a Genius.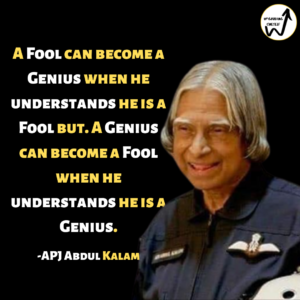 3. All birds find shelter during a rain. But eagle avoid the rain by flying above the clouds. Problems are common, but attitude makes the difference.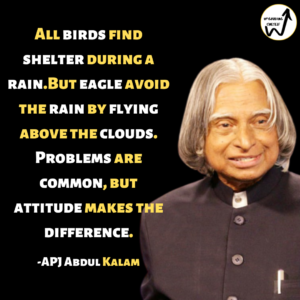 4. Life and Time are the world's best Teachers. Life teaches us to make good use of the Time and Time teaches us the value of life.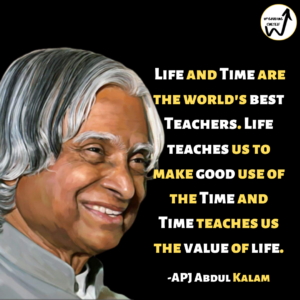 Related- How to manage your time effectively?
5. All of us do not have equal talent. But, all of us have an equal opportunity to develop our talents.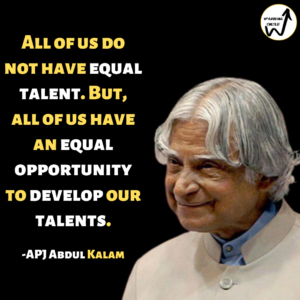 6. Luxury and Lies have huge maintenance costs. But truth and simplicity are self-maintained without any cost.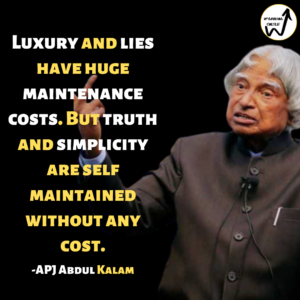 7. Life throws so many distractions at you; some good and some bad. These distractions either help you stay on track or push you off track. Being single-minded helps you to stay on track and on task.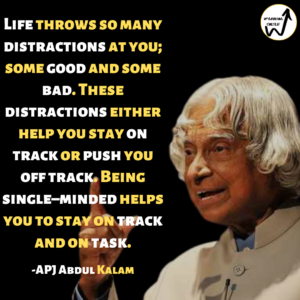 8. If you want to shine like a sun, First burn like the sun.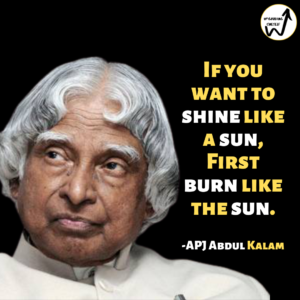 9. Man needs his difficulties because they are necessary to enjoy success.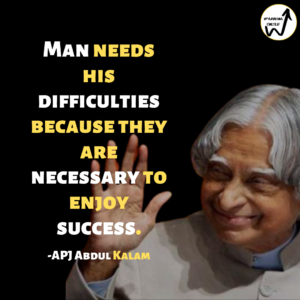 10. You were born with wings. Don't crawl. Learn to use them to fly and fly.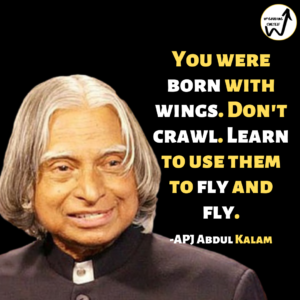 11. Don't read success stories you will only get a message. Read failure stories, you will get some ideas to get success.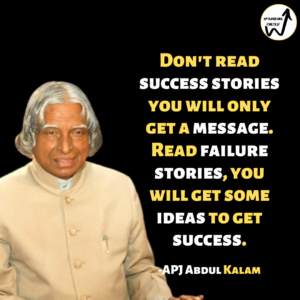 12. Why are we, as a nation so obsessed with foreign things? Is it a legacy of our colonial years? We want foreign television sets. We want foreign shirts. We want foreign technology. Why this obsession with everything imported?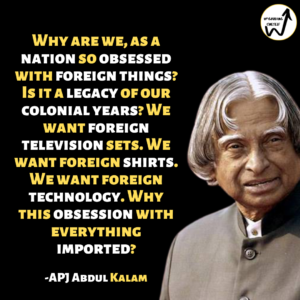 13. Tell me, why is the media here so negative? Why are we in India so embarrassed to recognize our own strengths, our achievements? We are such a great nation. We have so many amazing success stories but we refuse to acknowledge them. Why?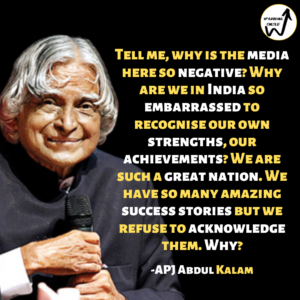 14. If a country is to be corruption-free and become a nation of beautiful minds, I strongly feel there are three key societal members who can make a difference. They are the father, the mother and the teacher.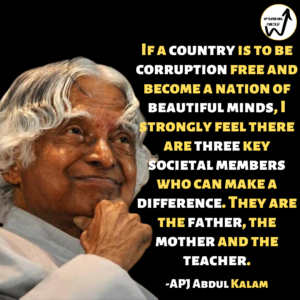 15. Teaching is a very noble profession that shapes the character, caliber, and future of an individual. If the people remember me as a good teacher, that will be the biggest honour for me.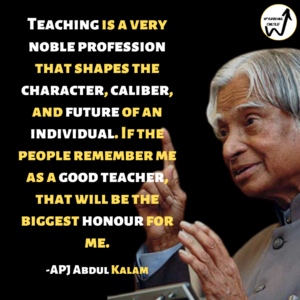 Final Words
APJ Abdul Kalam has always inspired us with his knowledge, wisdom, and teachings. He was a great man and our country India still remembers him. If you want to know about him more, check the Success story of APJ Abdul Kalam. He will always be in our hearts.
You can also check out
I hope you liked all the best quotes by APJ Abdul Kalam.
You can also check out inspiring quotes from