Virat Kohli is a man who needs no introduction. He is a man who has taken Indian cricket to another level. Not only he has conquered many milestones and records but also he is an inspiration for all the youth. Quotes from Virat Kohli have always been a motivation for all of us.
Virat was born on 5th November 1998 in a middle-class family.  Today, He is captain of the Indian Cricket team and is a right-handed batsman, and is performing consistently for the Indian team. He is the modern-day great player known as Run-machine.
Virat has taken his fitness level to a great level and he inspires everyone to be fit and healthy.  He has broken many cricketing records and milestones and making our nation proud at the global level.
So, let us check out some inspiring quotes by Virat Kohli…
Best Virat Kohli Quotes
1. Whatever you want to do, do with full passion and work really hard towards it. Don't look anywhere else.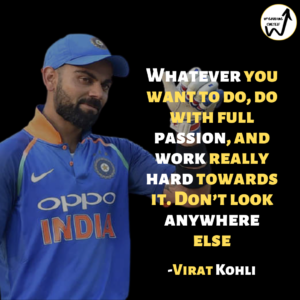 2. Irrespective of whatever you have a talent or not, one has to work hard. Just being talented doesn't mean anything. You can end up wasting it before you realize.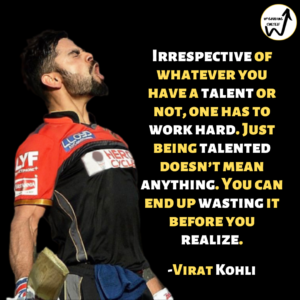 3. When you are fit, you feel as if you can do anything.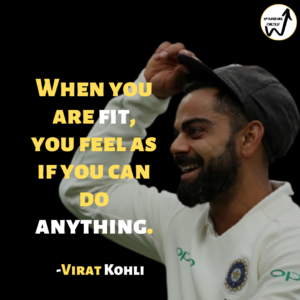 4. No cricket team in the world depends on one or two players. The team always plays to win.
5. I should play and enjoy the game and inspires the next generation.

6. You have to stay fresh and blank in your mind when you go out to bat. You complicate things, and you're gone.

7. If you're true to yourself, you won't fear anything.

8. I love playing under pressure. In fact, if there's no pressure, then I'm not in the perfect zone.

9.

There is no

point

in

competing

if you

don't

want

to be the

best

.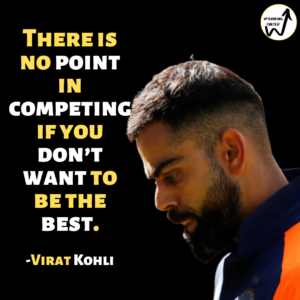 10. I keep telling myself, 'Improve, improve from the previous match, the previous shot. You can do it.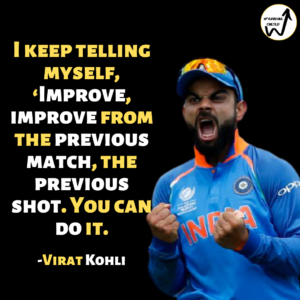 11. A fit body gives you confidence. And there's nothing more impressive than a great attitude, which you can wear on your sleeve.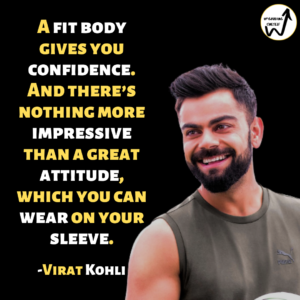 12. Self-Belief and Hard Work will always earn you success.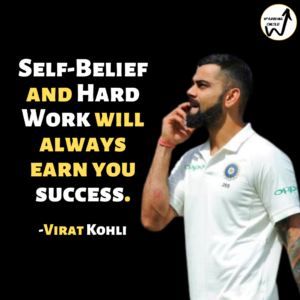 Related- Success Story of Virat Kohli
13. They picture me as someone who is wrong, and eventually that becomes right after a certain point of time.
14. I like individuals who don't want everybody to like them.
15. Within the sport of cricket, a hero is an individual who respects the sport and doesn't corrupt the sport.
16. In the game of cricket, a hero is a person who respects the game and does not corrupt the game.
17. I want to be relaxed in my personal life. I really do not like to be hassled.
18. My priority is cricket. Everything that I get apart from it is a result of the effort on the field. Everything else follows.
19. Becoming an inspiration for kids is great. I want to inspire them to do whatever they want to.
20. You have to stay fresh and blank in your mind when you go out to bat. You complicate things, and you are gone.
So, these were some of the motivating quotes from Virat Kohli. He is a sensational player and will keep performing consistently for the Indian Cricket Team. Make sure to share it with die-hard fans of Virat Kohli.
You can also check out quotes from players like-