There might be many rich people in India and there will be many more, but there will be no rich person like Ratan Tata. He is not only rich in terms of money but also rich from his heart. He is one of the most respected people not only in India but also in the world. His work has made India proud at the global level.  He is one of the greatest industrialists, philanthropist, investor and entrepreneur. Ratan Tata is the one who took the Tata Group to a very High level of success. Today, Tata group is top at various different sectors due to him. He is an inspiration and role model for the upcoming entrepreneurs as well as India's youth. Let us look at the success story of the Man with the Golden Heart – Ratan Tata:
Early life and Childhood
On 28th December 1937, Ratan Tata was born in Surat. His father was Mr. Naval Tata and mother was Mrs Sonoo Tata.
It was a fact that he was born with a silver spoon. But he had a really difficult and tough childhood.
His father and mother got divorced when he was just 10 years old. It is really tough and harsh towards any child. He and his brother Jimmy had really a hard time. Both of them were looked at by his grandmother Navajbai Tata in Mumbai. 
In many of Ratan Tata's interviews, he says that he had a great influence from her grandmother. She was a very disciplined and strict lady. Her influence helped to bring wise Ratan Tata.
He got a degree in architecture from Cornell University in 1959. He also attended a 7- week Advanced Management program of Harvard Business school in 1975.
Career of Ratan Tata-
Let us see the career of Ratan Tata in details-
Early beginnings-
Ratan Tata started his career in Tata group in 1962 where he was sent to Jamshedpur to work on the shop floor at Tata steel which was his beginning point of his career.
In 1971, he was appointed as Director in-charge of National Radio and Electronics Company Limited (NELCO).  NELCO was facing heavy losses during that time. Ratan Tata was able to solve the financial problems. But later due to economic slowdown and unions strike it was a tough stage for the company. 
In the year 1977, he was given the responsibility of Empress Mills which was also facing many issues at that time and was suffering heavy losses. Mr. Tata came up with certain ideas to make it a profit making company but it was rejected by the other employees. 
Named as successor of Tata Group-
In 1991, J.R.D Tata named Ratan Tata as the next chairman of the Tata Groups. This decision was considered as a bold decision. Many of the employees and staff were against this decision since Ratan Tata had very little experience and it wasn't supported by most of them. Later he proved all of them wrong and made very brilliant and great business decisions. 
The story of Tata and Ford-
In 1998, TATA launched Tata Indica in the market and this was a dream project for Ratan Tata. The response for this car from the market was worst and it was a complete failure. Tata Motors faced huge losses at this time. Tata motor team advised Ratan Tata to sell TATA Motors.
So, in the year 1999, he decided to sell TATA motors to Ford Company. Ratan Tata and his team had a meeting of 3 hours with Ford officials. Chairman of Ford company Bill Ford brutally humiliated Ratan Tata and said why even you entered in this industry when you don't have knowledge about it. We are favoring you for buying your company. This incident made Ratan Tata really sad and broken. So without any deal he left that meeting and didn't sell Tata Motors.
So, Mr. Tata made a decision to not sell Tata motors and he worked immensely in this company and the results were in profit after the huge hard work by him and his team.
In 2008, Ford company was going through a tough time and facing financial meltdown and was on the verge of bankruptcy. It was the TATA who took over Jaguar Land Rover for 2.3 billion dollars. It was a big favor for the Ford company. 
Ratan Tata not only bought JLR but also worked hard on JLR and made this into a profit making brand again with replacing old models with new and better ones. 
Tata group Under Ratan Tata-
Tata group has achieved many milestones under the leadership of Ratan Tata. So let us look at the some of the milestones under him-
In 1996, Tata entered the telecom sector NY launching Tata tele services.

In 1998, Tata Motors was the first Indian company to launch a passenger car in India known as 'Indica'.

Tata Tea (Tata global Beverages) acquired U.K. based Tetley group in 2000.

Tata group entered into the Insurance sector by forming a joint venture with US based American International Group (AIG) in 2001.

In 2002, Tata group acquired the state run Videsh Sanchar Nigam Ltd. (VSNL) now it is known as tata communications.

In 2003, Tata Consultancy Services became the first Indian Software Company to reach the mark of 1 billion dollar revenue. 
Tata Sky satellite television services was launched  by Tata Group which revolutionized television viewing in the year 2006.

In the year 2006, Croma the multi brand outlet for consumer electronics was launched by Tata group.

In 2007, Tata Steel acquired Corus

Tata motors launched the world cheapest car "Tata Nano" so that every family can have at least one car in the year 2008.

In 2008, Tata motors acquired Jaguar Land rover (JLR) brands from Ford Company.

In 2012, Tata Consumer Products and Starbucks corporation formed a 50:50 venture company that owns and runs the Starbucks outlet in India. 

A stake of Chinese mobile phone brand Xiaomi was acquired by Ratan Tata in the year 2015.

In the year 2015, he partnered with the American Express, investing  in the bitcoin venture named Abra.
These were some of the remarkable work of Ratan Tata for the Tata group and his contribution is remarkable.
Social Work by Ratan Tata-
Ratan Tata gives 65% of his income for social causes and charity. He always stands for the nation during tough times and crises. Ratan Tata is totally dedicated to philanthropy. His majority of wealth and assets are pledged towards Tata Trust.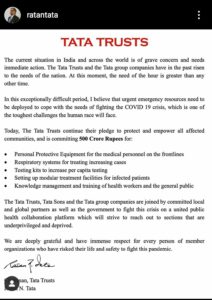 Awards received by Ratan Tata- 
Ratan Tata got Padma Bhusan in the year 2000 and Padma Vibushan in the year 2008.
Ratan Tata is a kind hearted and generous person. He has always been down to earth and always helped the needy ones. Today, he is an inspiration to the future entrepreneurs and leaders. His journey was full of ups and downs but he always did his best work.
Check out- Success Story of Virat Kohli