Among us is becoming popular day by day. It is fun and a party game which involves teamwork and betrayal. According to the sensor tower data, this game has more than 85 million total downloads. It is really trending now-a-days in the gaming world. So, it is really important to understand the business model of Among us.
Details of the founder
It is a game which was inspired by the real- life party game Mafia. Among us game was developed and published by the American company InnerSloth . The game was released on 15 June 2018 on Play Store and Apple store.
Details of the game
Among us is an online multiplayer game. In this game, 4-10 players play at a time. Among these 4-10 players, on a random basis, 1-3 impostors are selected whereas other players are Crewmates. There are a total of 3 Maps in the game which are  a spaceship  (The Skeld), a headquarters building (Mira HQ), or a planet base (Polus).
In the game, crewmates have to perform various tasks such as electrical rewiring, fueling engines, etc. Impostors are also given a fake list of tasks as well to blend with the crewmates, they have the ability to kill crewmates, sabotage the map systems, traverse vents and identify the other impostors. When a player dies, they will become a ghost who can travel through walls as well. All players have a core vision of identifying the impostor. A player can report when they find a dead body and tries to identify the impostor by discussing in a general meeting and voting for the impostor.
Crewmates win by completing all the tasks before getting killed or by finding and eliminating all the impostors. Whereas an impostor wins when they kill enough no. of crewmates such that the number of impostors is equal to the number of crewmates or have a sabotage countdown run out.
Revenue Model of the game
So, let us look at how among us earn money-
Through Advertisements
For any application, the main source of income is always through an Ad network. The Ad Network which is mostly used by the owners of apps is Admob. Among us also earns money by displaying Ads through Admob. You might have seen that after every game it shows ads to every player. They get revenue from Cost per click and Revenue per thousands impressions. 
In-App purchases
In many gaming apps, there are always  in-app purchases, In Among us game, there are in-app purchases of items like pets, skins and hats. The game also charges a specific amount for removing the ads from the game. In this way, this is their secondary source of income.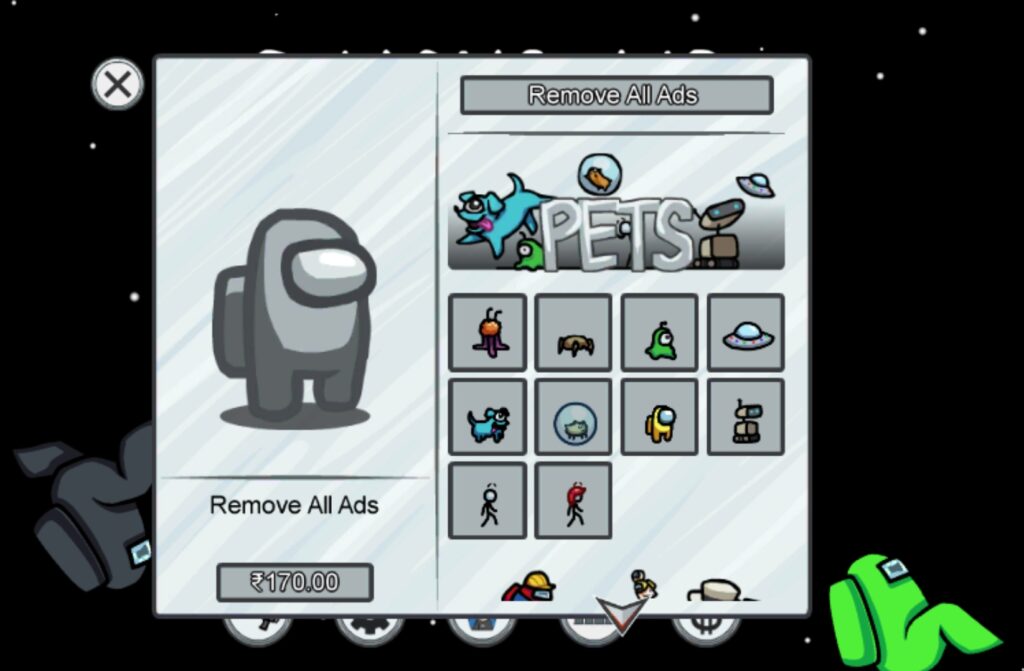 Merchandise
Merchandise products are also one of the sources which helps them to generate huge revenue. Products like tshirts  and plushies are sold which have designs related to the characters of the game. Those who love this game can buy these products.
If you want to check its merchandise, check Innersloth Store
Many content creators started playing Among us which gave a boost to this game in 2020 and is being played by many people. Also it has become a way to connect with others in this pandemic period. The gaming world is on the boost in many countries.
In this way, Among us earn money and has its unique business model.
Checkout- How PUBG earns?
For such more articles stay tuned.