In today's era, almost everyone likes playing digital games. Gaming industry is a billion dollar industry. There are many famous games that are popular throughout the world like PUBG, Clash of Clans, Fortnite, Apex legends, DOTA-2, counter strike, etc.
PUBG is one of the most played online games in recent times. PUBG stands for Players Unknown's BattleGrounds. It is an online game which is also a multiplayer game. I'm sure if you have played this game, you might love this game and accept the fact that this game is really interesting.
Short Brief of the game-
PUBG can be played solo, duo as well as in a squad. You can play this game with your friends as well. The most interesting feature of the game is that you can also communicate with them through voice chat in the game. 
In this game, 100 players are transferred to an island where each player decides to land at a specific location where there are buildings, houses, compounds, etc. Players have to loot in these areas. Loot includes guns, armor, helmet, vest, Frag Grenade, Smokes, Backpack, medkits, heath kits, energy drinks, painkillers, etc. Players have to fight each other on the island. The winner of the game is one who survives among the 100 players. The goal of every squad, duo or solo is to stand live till the last by eliminating other players and get the 'Winner Winner Chicken Dinner'. 
There are various missions and targets as well in the game which a player has to compete in. There are also various achievements and E-rewards in the game. Players can open various types of crates through which they can get dress, skins of equipment, silver, etc.
PUBG has its own royal pass system. It has two types of RP which includes free and elite.
You might be wondering that PUBG is such a big game, so how might it get its revenue from its users. So let us look at How PUBG earn money through various sources….
Ads revenue
It is a fact that ads are the primary source of revenue for most of the applications. PUBG also uses this revenue model to earn so much revenue for the company. Mainly it focuses on the videos ads. PUBG mostly doesn't show ads to all users. It gives a choice to every user if they want to see it or not. You can check in the below image that if a user watches the video, he/she will get rewards for watching the complete video. These are the ads displayed by Google Adsense. In this way, PUBG shows ads to its users and earns a good sum of revenue from this model.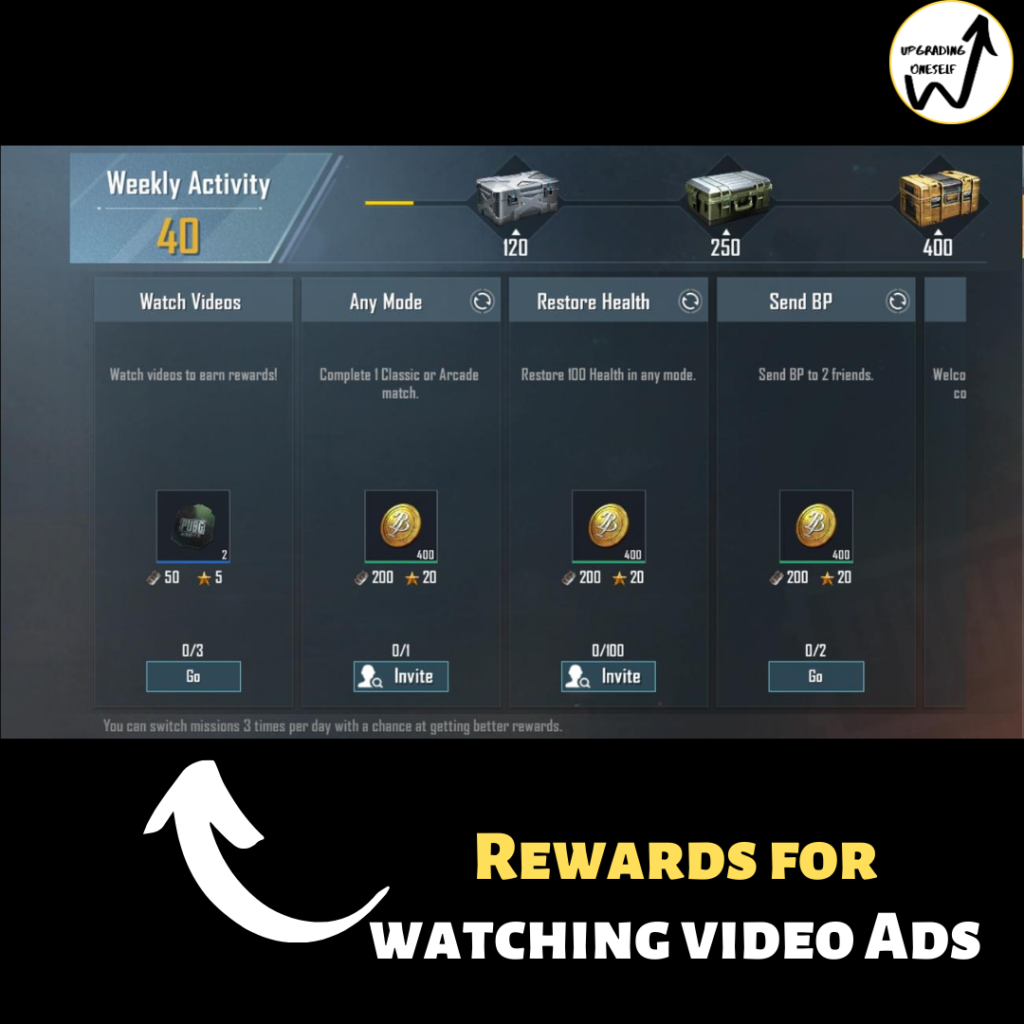 In App purchases
It is the main source of the revenue through which PUBG earns a huge amount of revenue. There are many In-App purchases in the game of PUBG. There are different currencies of PUBG which are BP, UC, Silver Fragments and AG. Many of the things for buying in PUBG require these currencies where UC is not for free, to get UC you have to buy it. Mostly UC is required to buy Elite Royal Pass, Crate openings, Characters, costumes, Vehicles Skins, Gun skins, Emotes, and many other things. Users get UC when they purchase it with real money. In this way, PUBG earns money through In-App purchases. Majority of income which PUBG gets is through In-App purchases itself.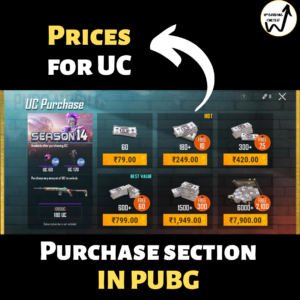 Promotions and collaborations
Promotions and collaborations will always be there if you have a huge fan base. So it is with PUBG,  since it has so many active users that many promotions and collaborations are done with PUBG games. Let us see some of the examples of big promotions and collaborations of the game PUBG-
It has collaborated with Alan Walker for the song "On My Way". Even it was played inside the game also. If you remember, while driving a vehicle, this song used to be played in the game.

PUBG has promoted the movie- Godzilla: King of Monster.  Various in game costumes were introduced while this promotion.




Another collaboration is here! We are thrilled to announce the crossover between PUBG MOBILE and Godzilla: King of the Monsters! Parachute in to find clues of Godzilla's imminent arrival. See Godzilla: King of the Monsters in theaters May 31st! #PUBGMxGodzilla #GodzillaMovie pic.twitter.com/3PoGZb5rlV

— PUBG MOBILE (@PUBGMOBILE) May 16, 2019

It has collaborated with Yamaha Motor Company limited and also introduced Yamaha bike skins in the game also.




Log in to earn exclusive @YamahaMotorUSA rewards! 🎁

No ride is complete without the Graphic Helmet and CONTEND Jacket – yours for free when you log in for three days! 👉 https://t.co/soZ0P9hewR#PUBGMOBILE #YamahaMotor pic.twitter.com/DGSVGbKzfA

— PUBG MOBILE (@PUBGMOBILE) July 11, 2020

PUBG has also collaborated with The Walking Dead and has introduced skins and costumes related to it.




The Walking Dead has arrived in PUBG MOBILE!

Play as your favorite characters, or utilize their iconic gear, to overcome a threat more dangerous than any walker! #TWD pic.twitter.com/f5yirggkBF

— PUBG MOBILE (@PUBGMOBILE) September 30, 2019

It has collaborated with the movie – Mission Impossible- Fallout for battle royale mission.




PUBG MOBILE x Mission: Impossible Fallout.

Tweet #PUBGMobile to unlock and become a Mission Impossible secret agent now with @TomCruise in @MissionFilm!

— PUBG MOBILE (@PUBGMOBILE) July 27, 2018

PUBG has collaborated with the new game Metro Exodus.




You may have claimed a Chicken Dinner… but you haven't seen anything yet! 🗺️

Be sure to stay tuned for our collaboration with Metro Exodus, the latest video game in the acclaimed @MetroVideoGame series! More details coming soon! 👉 https://t.co/V8wiKgp7XD pic.twitter.com/DCyu8PERgo

— PUBG MOBILE (@PUBGMOBILE) August 7, 2020
These are some of the collaborations and promotions of PUBG.
Sponsorships
Sponsorship helps to increase the revenue of any company. PUBG is always sponsored by Oppo mobile phones. Oppo sponsors many events of PUBG like PUBG Mena Challengers Club, PUBG Mobile Indian Series, etc. Vivo is the title sponsor of tournament PUBG Mobile Club Open (PMCO). Sponsors help PUBG to earn a good amount of revenue.
Through Esports
Esports  is rising throughout the world on a consistent basis. PUBG is organizing various tournaments at the global level which includes PUBG mobile world league (PMWL), PUBG Mobile Club Open (PMCO), PUBG mobile international Championship, etc. By organizing these tournaments from regional to global level it creates many opportunities for players to participate in the tournament. Many Esports organizations sponsored players to play these tournaments. These tournaments are broadcast on YouTube which has very high viewership. 
By organizing these tournaments, it is doubling its revenue and benefiting overall individuals as a career option or source of entertainment and it also benefits the world economy as well.
Merchandise
PUBG also earns through merchandise. Various products like T-shirts, toys, caps, keychain, hoodies, etc are sold in the merchandise of PUBG. These products are available worldwide and it gives a good source of revenue to PUBG. Since this game has a huge fan base, it is obvious that merchandise products of the game will also have a huge demand as well. PUBG users buy various merchandise of this game. 
Check out- PUBG Merchandise
Final Words-
This game is loved by many people. And yes this brand had made out various sources of revenue. PUBG is a successful and profit making company just because of its right marketing and proper strategies. According to Sensor Tower, PUBG mobile has made a revenue of more than 226 million dollar which made it the top grossing mobile game by revenue in 2020.
I hope this article provides you in depth details about how PUBG earn money through various ways. 
Related Article- Should you play PUBG or not?