India is a land where cricket is the most loved sport ever by all Indians. Players who play for Indian Cricket team always have immense pressure from the crowd and supporters. Virat Kohli is considered as one of the greatest batsmen in the history of world cricket. He is consistently performing with great excellence in every match. His passion for the game is really unbelievable. He is also termed as a fitness icon for all Indians. Reaching great heights in Cricket is never easy. So many Indians dream to play for Indian cricket team. Despite such a high competition, Virat Kohli is today captain of Indian cricket team. So let us look at An inspiring success story of the king of cricket-Virat Kohli:
Childhood and early life-
Virat Kohli was born on 5th November 1988 in New Delhi to a Punjabi Family. His father was a criminal lawyer named Prem Kohli and mother was a housewife named Saroj Kohli. He had an elder brother and elder sister named Vikas Kohli and Bawna respectively.
His love for cricket started in his childhood itself. According to his family, he picked up the bat at just the age of 3 years old. His father used to bowl and he just used to swing the bat. He studied in Vishal Bharti Public School. He was good in studies according to his teachers.
Joining of Cricket Academy-
His neighbors said to his dad that he should join the academy of cricket by seeing his ability. So his family made him joins West Delhi Cricket Academy when he was just 9 years old. He got his training from Rajkumar Sharma. According to him, Virat was really talented and was also hard working.
Under-15 Career-
He played for Delhi under-15 team in Polly Umrigar Trophy. He overall scored 172 runs and was highest run-scorer for his team in 2002-03.  For this performance he was captain for the team in 2003-04 Polly Umrigar Trophy. He scored 390 runs in 5 innings.
Under-17 Career-
For his brilliant performance, he was selected in Delhi under 17 team in 2003-04 Vijay Merchant Trophy where he scored 470 runs in 4 innings. Delhi under-17 team was the winner in 2004-05 Vijay Merchant Trophy where Virat was the highest run getter. He scored 757 runs in 7 matches. He made his debut in List A Cricket for Delhi.
A tragic death of his father-
Virat was just 18 when his father died due to brain stroke. He was playing for Delhi against Karnataka at that time. He played that match and scored 90 runs when Delhi was struggling. After the match he went directly to the funeral. His family faced really tough times. Virat's mother said that this tough time made him more mature and focused towards his dreams. It was his father's dream to see him play for Indian cricket team. After The death of his father's, Virat wanted it to complete his father's dream.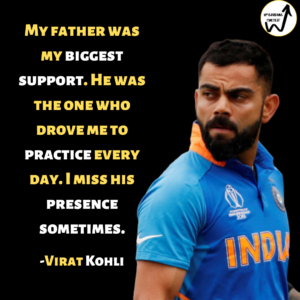 Under-19 Career-
Virat was selected in Indian u-19 team in July 2006 where India toured to England. It was his first out of country tour for him. Due to his amazing performance in U-19 matches, he was selected as Captain for U-19 Cricket World cup held in Malaysia in 2008. He scored 235 runs and was 3rd highest run scorer. The winner of this U-19 world cup was India. It was a great achievement for Virat and he was an emerging Indian Batsmen at that time.
International Career-
In 2008, during the tour to Sri Lanka, Sachin Tendulkar and Virendra Sehwag got injured which resulted in the debut of Virat Kohli. He made his debut at age 19. He scored 12 runs in his first match. In the same series he scored a half century- 54 runs, in 4 matches.
During this time, Indian Cricket team was packed. Whenever Virat used to get an opportunity, he used to perform well.
Slowly and steadily he started performing really outstandingly in international matches.
Virat was selected in the 2011 World Cup team. He scored an unbeaten hundred in the first match of the world cup against Bangladesh. He became the first Indian player to score a hundred in the debut match of the World cup. In the final match of World Cup, he scored crucial 35 runs and made an important partnership with Gautam Gambir. India lifted the 2011 World cup and Virat contributed 282 runs overall.
Later he performed consistently. India won the Champions Trophy in 2013 and he contributed 176 runs. 
India reached the semi-finals in 2015 World cup and Virat contributed 305 runs.
The performance of Indian team was really impressive and remarkable in the 2019 world cup. Just one bad match in Semi-final resulted in the lose of the team. Virat contributed 443 runs with the bat.
Virat is consistently performing from 2013 for India and scoring hundreds and match winning knocks.
Indian Cricket Captain-
Initially, Virat became captain of Indian Test team in 2014 when M.S. Dhoni retired from Test cricket. Later, Virat was also appointed captain of ODI and T20 team when M.S Dhoni stepped out from Captainship.
IPL career-
Virat Kohli has played for Royal Challengers Bangalore since 2008. In 2013, he became  the captain of RCB. He has achieved great success in this franchise but RCB still haven't won any IPL title yet.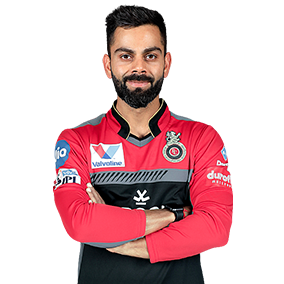 Records and milestones-
Virat holds many records and milestones in his career. He is still breaking many more records. He is considered as no.1 batsman in this era.
Check out- Some of the greatest records made by Virat Kohli.
Love life/ Marriage life-
Virat was dating Bollywood actress Anushka Sharma from 2013.  Virat and Anushka both got happily married on 11th December 2017 in Florence Italy. This couple is popularly called 'Virushka'.
Brand endorsement by him-
 Virat has brand endorsement with big companies like Audi, Manyavar, Puma, Wrogn, MRF tyres, and many more. Virat is only cricketer to get featured in the Forbes list of top 100 highest paid athletes in the world.
Social Work-
Virat Kohli started a Virat Kohli Charity Foundation to help the unprivileged kids in 2013. It was his dream to start this foundation from the start and now he helps needy ones through this foundation.
Nicknames of Virat Kohli-
His U-19 teammate, Ravindra Jadeja and Goswami named him as 'Chiku' which is quite popular in the crowd. He is also called  King Kohli, Run Machine and Chase Machine.
Today, Virat Kohli is considered as one of the legendary cricketers because of his passion, consistency, hard work, determination, fitness and aggressive game style towards the game . He is a great icon for all the youths. This is how Virat's journey became successful.
Checkout- Quotes By Virat Kohli.
Hope you like this article.