M.S. Dhoni is one of the greatest cricketers of the era. Being a small town guy, it is never an easy task to represent a country with a population of more than 1.3 billion people and where cricket is one of the most played games in a country. Belonging to a middle class family to becoming a Ticket Collector to representing Indian Cricket team to being a successful captain of Indian Team is the journey of the legend M.S Dhoni. No Indian captain is close to him for not only records but also in terms of trophies at world level. So let's look at the inspiring success story of the Captain Cool M. S. Dhoni-
Childhood and early life-
Mahendra Singh Dhoni was born on 7th July 1981 in Ranchi and is from a Hindu Rajput Family. His father's name was Pan Singh Dhoni who worked in the junior management position of MECON. Her mother's name was Devki. He had one brother Narendra Singh Dhoni and a sister Jayanti Gupta. His cricketing idols were Sachin Tendulkar and Adam Gilchrist in his childhood. He also liked Amitabh Bachan and Lata Mangeshkar.
He completed his schooling from DAV Jawahar Vidya Mandir, Shyamali, a school from Ranchi.
Cricket Career of M.S. Dhoni-
Let us look at the details of career of M.S Dhoni-
Beginnings of the career-
At the initial level, M.S. Dhoni used to play Football  and Badminton. He was in the football team as a goalkeeper for his school.  He had played at club as well as district level for both games.
Once, his football coach sent him to fulfill him as a wicketkeeper in the cricket team. And everyone was impressed by his wicket keeping skills. In this unsudden way, M.S. Dhoni's cricketing journey was started. 
He was a wicketkeeper for the Commando Cricket Club from 1995 to 1998. For his outstanding performance in the club, he was also picked for Vinoo Mankad Trophy Under-16 Championship where his performance was good. 
Selection for Bihar Cricket Team-
In 1998, M.S Dhoni was selected for the Central CoalFields limited (CCL) Team by Deval Sahay. He used to give Mahi 50₹ gifts for every six he used to hit in Sheesh Mahal Tournament Cricket matches. He was really impressed by Mahi's  abilities of hitting sixes and loved his dedication. Deval Sahay helped Mahi with his big contacts to the Bihar Cricket team. Mahi moved from CCL to Bihar Ranji team within a year. He was included in Bihar U-19 squad for the season 1998-99 where he scored 176 runs in 5 matches. Bihar U-19 team reached finals of 1999-2000 Cooch Behar Trophy, where he made 84 runs but it went in vain where his opponent  Punjab U-19 team scored 839 in which Yuvraj Singh was a top scorer making a stunning 358 runs.
He made his debut in Ranji Trophy for Bihar team in the 1999-2000 season at the age of 18 years with scoring  a stunning 68* runs in the second innings against Assam Cricket team.  
Career under Jharkhand Cricket Team-
Dhoni was working as a Traveling Ticket Examiner (TTE) at Kharagpur Railway Station during 2001-2003 with pursuing his cricket dream as well. He continued playing in Ranji Trophy with it. In the season 2002-2003, Dhoni scored 3 half centuries in Ranji Trophy and 2 half centuries in Deodhar Trophy. In 2003-04 season, Dhoni scored 128* in the first match of the Ranji ODI tournament. Dhoni was also a part of the winning team East Zone in the Deodhar Trophy in 2003-04. 
The talent of Dhoni  was discovered by TRDO Prakash Poddar through BCCI's small town talent spotting initiative. 
Selected for India A team-
Finally, efforts of Dhoni were recognized and he was selected for India A team for the ODI tour to Zimbabwe and Kenya. His performance was remarkable in both series and even he scored consecutive centuries. This performance drew the attention of Saurav Ganguly who was Indian Captain at that time and all were impressed by his amazing talent of finishing the innings. His wicket keeping was unconventional but he got results from that style also. 
A start of International career  for M.S Dhoni-
After performing well for India A, M.S. Dhoni was selected as a wicketkeeper batsman for the ODI squad against Bangladesh in 2004-05. Start wasn't good for Dhoni, he just got out  on the golden duck in the debut match. It was an average series for Dhoni against Bangladesh.
Luckily, He was selected for Pakistan series as well. And finally he scored a stunning century with a score of 148runs from 123 deliveries.
Later, after few matches, he scored an amazing 183* runs- A match winning knock against Sri Lanka. In that series, MS was the highest run getter and bagged Man of the series award.
He performed consistently after that and became the number 1 ODI batsman in ICC ODI Rankings overtaking Ricky Ponting on 26the April 2006 and becoming the fastest batsman to do it in just 42 innings. 
Terrible 50 over World Cup in 2007-
It was a very terrible and a tough phase not only for Dhoni but also for the Indian team as well. In the 2007 World Cup of 50 overs, India was knocked out in the group stage itself. Team India lost brutally against Bangladesh and Sri Lanka and Dhoni was out for a duck in both the matches. He was just able to score only 29 runs. He faced heavy criticism by Indian fans and media. During that time, the house owned by Dhoni, that was under Construction in his hometown was damaged and destroyed by political activities. It was really a tough phase for him.
Captain of Indian Team for T20 World Cup 2007-
M.S Dhoni was appointed as Indian captain for T20 World Cup which was the first ever T20 World Cup ever held. He was handed a young team with only few experienced players.On 24 September 2007, Team India won the 2007 T20 World Cup. He became the second Indian Captain to win any form of World Cup after Kapil Dev. 
No.1 Ranking in test under the Captainship of Dhoni-
In 2009, India won the series against Sri Lanka by 2-0 and India became the No.1 in the Test rankings. This was the first ever time that Indian team became No.1 in the test rankings.
50 overs World Cup in 2011-
ICC 2011 World Cup was held in the hometown India. In this World Cup, India had a strong team with many match winners in the team and all were experienced players.  India won matches against Bangladesh, Netherlands, Ireland and West Indies. There was a draw with England and one loss against South Africa. India easily qualified for quarter finals and defeated defending champions Australia in the quarter finals. In the semi finals, it was the biggest battle India VS Pakistan. India won that semis and qualified for the finals. India won the finals against Sri Lanka and Dhoni scored outstanding 91* and finished in style with a six in the crowd. He got Man of the match in the final match and became  the 2nd Indian Captain  to win a 50 over World Cup.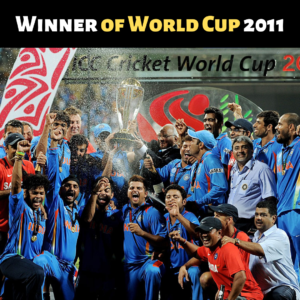 2013 Champions Trophy-
India won the 2013's Champion Trophy under the captainship of Dhoni which made him as the first and only captain to claim all the ICC trophies.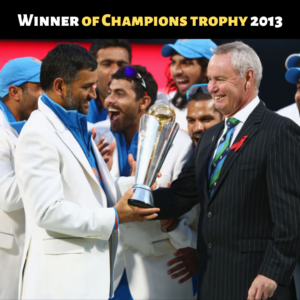 2015 World Cup-
In the 2015 World Cup, India won all the group stages matches. India were unable to defend their Title and lost to the Australian team in the semis. 
Stepping down as a Captain-
Dhoni stepped down from the captainship of the test during the Australia series in 2014. He stepped down as a captain in limited overs in January 2017 against England and handed it to Virat Kohli. 
Check- Success Story of Virat Kohli
2019 World Cup-
India reached till semis and were knocked out by Kiwis i.e.  New Zealand. M.S Dhoni was the last hope for India but unfortunately he got run out at a crucial stage. And this was the last International match he played.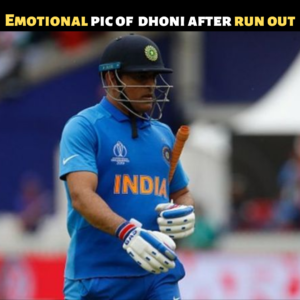 IPL career-
M.S Dhoni was contracted by Chennai Super Kings in 2008 for 1.5 million USD which made him the most expensive player of the first season. Under the captainship of Dhoni, Chennai super kings have won the title of IPL for the 3 times. He is considered as the most successful captain in the IPL. During the ban of CSK, he played for Rising Pune Supergaints for 2 years.
Goodbye to International cricket-
On 15 August 2020, M.S. Dhoni posted a video on Instagram with a caption saying that he is retired with a background song "Main pal do pal Ka Sayar hu".
Personal Life-
Dhoni got happily married to Sakshi Singh Rawat on 4th July 2010. Dhoni and Sakshi were blessed with a baby angel named Ziva on 6th February 2015. He was not present at the time of the birth of Ziva since he was preparing to face West Indies in ICC World Cup 2015. He met his daughter after 2 months at Ranchi Airport.
Nicknames- 
Mahendra Singh Dhoni is mostly known with a nickname as 'MAHI'. He is also known as MS, MSD, Captain Cool and also Thala
Brand deals and endorsements-
Dhoni is associated with multiple brands like MasterCard, redBus, Dream11, Bharat Matrimony, Pepsi, Snickers, Indigo Paints, Car24 and many more. He is always a center of attraction for the brands due to his huge fan following.
Awards-
He got Rajiv Gandhi Khel Ratna, India's highest honor given for achievement in sports in the year 2007. He was awarded Padma Shri in the year 2009. In the year 2018, he was awarded Padma Bhushan.
Final Words-
Today, M.S. Dhoni is considered as one of most successful captain ever. His contribution to the Indian team is magnificent. A boy from small town-Ranchi made the whole nation proud through his amazing contribution to Indian Cricket Team. He is the most inspiring man to everyone and a role model for many of us.
Hope you like this article.