APJ Abdul Kalam was a man who was loved by not only Indian's but he was respected even outside India. He was a man with 0 haters. Abdul Kalam was the man who made India fly. From a newspaper to the President of India, he became a great person whose contribution to India is noteworthy. Let us look at the inspiring success story of the Missile man of India- APJ Abdul Kalam-
Early life and childhood-
APJ Abdul Kalam was born on 15 October 1931 to a Tamil Muslim family in Rameshwaram. His father name was Jainulabdeen who was a boat owner as well as IMAM of a local mosque and his mother was Ashiamma. He had 4 brothers and 1 sisters, he was youngest one among them.
During his childhood, his family has to suffer from financial problems, so he used to sell newspaper to support his family at a young age.
His teachers used to says that Kalam used to get average marks but he was a hard working and a bright student  and a good learner as well. Abdul Kalam studied in Schwartz Higher Secondary School. Later, he completed his physics graduation from Saint Joseph's College in the year 1954. In the year 1955, he went to Madras to study aerospace engineering in Madras Institute of Technology.
Kalam had a dream of becoming a fighter pilot but he nearly missed his dream since he placed 9th in the qualifiers of Indian Air Force [IAF] which has only 8 available positions.
Career of APJ Abdul Kalam-
Let us look at the career details of APJ Abdul Kalam-
Career as a Scientist-
In the year 1960, after graduating from Madras University, Kalam  joined Aeronautical Development Establishment of the Defense Research And Development Organization[DRDO] as a scientist. He started with his career with designing a small hovercraft. He was not satisfied with this job in DRDO.
Kalam was also a part INCOSPAR committee working under a famous  and renowned space scientist Vikram Sarabai.
In the year 1969, Kalam was transferred to the Indian Space Research Organization [ISRO] and was appointed as the director of India's 1st Satellite launch vehicle [SLV-III] which successfully deployed the "Rohini" satellite in the near earth orbit in July, year 1980.
Kalam had put a huge and tremendous efforts into developing Polar Satellite Launch Vehicle [PSLV] and SLV-III projects between 1970s and 1990s and both of these projects were successful and were important victory of India.
Kalam was also invited by Raja Ramanna for witnessing India's first nuclear test ''Smiling Buddha" even though he had not participated in this program.
R Venkatraman who was defence minister at that time appointed Kalam as a chief executive of Integrated Guided  Missile Development Programme [IGMDP] and also allocated his team 388 crores INR for this mission where Kalam played a very crucial role in developing several successful missiles which included 'Agni' and 'Prithvi'.
He served as the Chief Scientific Adviser to the Prime Minister and Secretary of the DRDO from 1992 to 1999. During this time period, Pokhran-II Nuclear tests were conducted in which Kalam played a vital role along with the prime Minister Shri Atal Bihari Vajpayee.
During the late 1990s, Kalam was being considered as the best known Nuclear Scientist.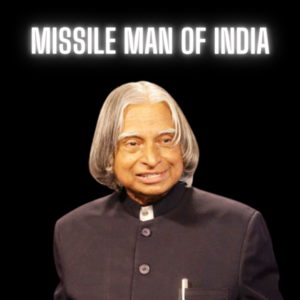 Career as President of India-
In the year 2002, Kalam became the 11th President of India by succeeding K. R. Narayanan. He become the 3rd President of India who have been honored with Bharat Ratna before becoming the president. He also became the first bachelor and the first scientist to occupy the 'Rashtrapati Bhawan'. During his presidency, he was known as "People's President".
Kalam served as a President of India from 25 July 2002 to 25 July 2007. He stepped down as the President on 25 July 2007 and didn't contest for Presidential Election in 2007.
Career as a Professor-
Kalam chose the academic field and was a visiting Professor at the Indian Institute of Management Shillong, Indian Institute of Management Ahemdabad and also in Indian Institute of Management Indore, an honorary fellow of Indian Institute of Management, Bangalore, chancellor of the Indian Institute of Space Science and Technology Thiruvananthapuram; professor of Aerospace Engineering at Anna University; and he contributed to many other academic and research Institution across India. He has also taught Information Technology at the International Institute of Information Technology in Hyderabad, Banaras Hindu University and Anna University.
Books Written by APJ Abdul Kalam-
Kalam had written many books and some of the famous books are
India 2020: A Vision for New Millennium which was co-authored with Yagnaswami Sundara Rajan.

Wings of Fire- An Autobiography.
Ignited Minds: Unleashing the Power within India.

Turning Points: A Journey through Challenges.
Awards and Achievements-
Kalam has got many awards and achievements throughout his life. Some of the noteworthy awards and achievements are as follow-
In 1981, he got Padma Bushan award from Government of India.
Also in the year 1990, he received Padma Vibushan award from Government of India.
In 1997, he got Bharat Ratna award from Government of India.
In 1998, he got Veer Savarkar award from Government of India.
Kalam's 79th Birthday was recognized as World Student's Day by the United Nations [UN].
He was also nominated for the MTV Youth Icon in the year 2003 as well as 2006.
These were some of the great awards and achievements of Kalam. Awards and Achievement list is endless for Kalam Sir.
A Tragic death of APJ Abdul Kalam-
On 27th July2015,  While delivering a seminar on " Creating a livable planet Earth" at the Indian Institue of Management Shillong at around 6:35 p.m..IST,  he collaped down. He was rushed to nearby Bethany Hospital. But he was dead due to cardiac arrest at 7:45 p.m. IST.
On 30th July 2015, his last rites were performed where over 350,000 people  attended it including Narendra Modi, Rahul Gandhi,  governor of Tamil Nadu, Chief Minister of Kerela, Karnataka and Andhra Pradesh as well.
APJ Abdul Kalam was famously known as "Missile Man of India", he is the one who made India fly to new heights. His love for students was so fascinating. His journey inspires many students as well as youths for the success.
Checkout- Inspiring Quotes of APJ Abdul Kalam.
I hope you loved the Inspiring Success story of the Missile Man of India- APJ Abdul Kalam.
Related Articles- Success Story of Ratan Tata.