Shah Rukh Khan also renownedly known as SRK is an Indian Star who is a Bollywood actor and a film producer. SRK is famously known as the "King of Bollywood" in the  Hindi Film industry.
He was born on 2 November 1965. He made a Bollywood debut in the year 1992 with the film Deewana and then his journey was unstoppable. Baazigar, Dilwale Dulhaniya Le Jayenge, Kuch Kuch Hota hai, Chak De India, My Name is Khan, Raees, Don, etc are some of the best films where Shah Rukh Khan played a lead role and stunned the audience with amazing acting skills.
King Khan is one of the highest-paid actors in the world and also the richest actor in the world with a worth of $600 million as of 2020.
SRK is an inspiration for all of us and he is inspiring many of us. Let us have a glimpse over 12 Best Quotes of  The King of The Bollywood- Shah Rukh Khan:
1. Destiny plays a part for sure and no one can teach us either how to find it or how to chase it.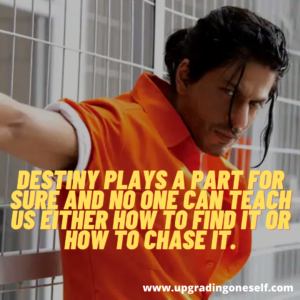 2. If you live by your fears, everything that could go wrong will go wrong.

3. It's okay to be confused. Confusion is the route to all the clarity in the world.

4. It is not special to be special, it is special to be ordinary and go on.

5. Don't become a philosopher before you become rich.

6. It's not necessary that the world will accept your creativity, but don't give up on it.

7. The mind is the seed of creativity but the heart is the soil. That seed cannot grow without an open heart.

8. If you don't like something don't do it, and if you're doing something then you better like it. It is as simple as that.

9.  There is only one religion in the world – hard work.

10.  Losing is not option. I have decided not to lose my ability to make other smile.

11. Success is not a good teacher, failure makes you humble.

12. The only cure for failure at work is more work.

These were the quotes from Shah Rukh Khan. We all are big fans of SRK. His words are always inspiring. Hope you liked this article.
Also Read-