Shin Chan is a Japanese cartoon. This cartoon is not only popular in India but also in countries like Netherlands, Belgium, Italy, Germany, Spain, etc. This cartoon is about the adventure of a 5 year old boy named Shin Chan Nohara. He was very naughty boy. His father name was Hiroshi, mother's name was Mitsy and sister's name was  Himawari. He had 5 friends- Kasama, Suzuki, Masav, Nany and Ichan.
This cartoon show has entertained many of us and it might be our one of the favorite cartoon. Shin Chan gives us some valuable life lessons. Although he was just a 5 year old kid but one can learn some lessons from him.
Let us look at top 8 life lessons from Shin-Chan :
Enjoy your life-
Life is full of ups and downs. For Running behind success, we have forgotten to enjoy our life whereas Shin Chan was a funny and cool guy. He never took stress of the life and he used to enjoy whatever he used to do. He used to make every difficult situation funny and enjoy the moment.
Being a family boy-
Loving your family is one of the important lesson from Shin Chan. He used to love his family lot. Even though he was just 5 years old, he used to take care of Himawari always. He always loved his mom and dad and also grandparents. He supports his family in every situation.
Always be there for friends-
In this changing world, we often forget our old friends because of meeting with new people. Shin Chan's best friends were Kasama, Suzuki, Masav and Nany. He never left his friends alone. Their group name was Kasukabe Defence group. He always loved to meet them. They always played together. Even though all four boys didn't liked playing Nany's game but they used to play. Their friendship was unbreakable.
Laugh and make others laugh-
We know that Laughter is the best medicine. The unique quality of Shinchan was to make others laugh. His mischivieous and funny behavior makes everyone laugh. Even the tense situation becomes easy due to his funny behavior. One can learn from this that how to use humor to create friendly environment.
Love your Pets-
Shinchan used to have a dog i.e. Sheero. He many times doesn't takes Sheero for a walk and forget to feed him. But he loved Sheero unconditionally. The bonding of sheero and Shinchan was unbreakable.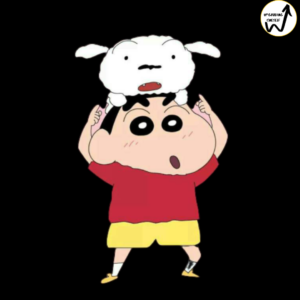 Accept and appreciate negative criticism-
Whenever someone used to mock or criticize Shinchan, he always said ' ab me itna bhi kuch khas nahi…'. This was the way how he deals with cricitisim. Whenever he was criticized, he never took it personally.
Be real you-
Many of us are shy when the meet new people. Shinchan never changed his behavior. His attitude was always same. He didn't changed his originality for the sake of others. We should also not change our behavior for sake of others. Just be yourself. Do not feel shy.If you want to dance, drink, play, or eat, just do it.
Be fearless-
Shinchan was a fearless kid. He used to do anything without any fear. Whenever someone used to trouble him or his friends, he used to face them without any fear. Except Bell pepper [ simla mirch ] and mom's anger, nothings can fear him.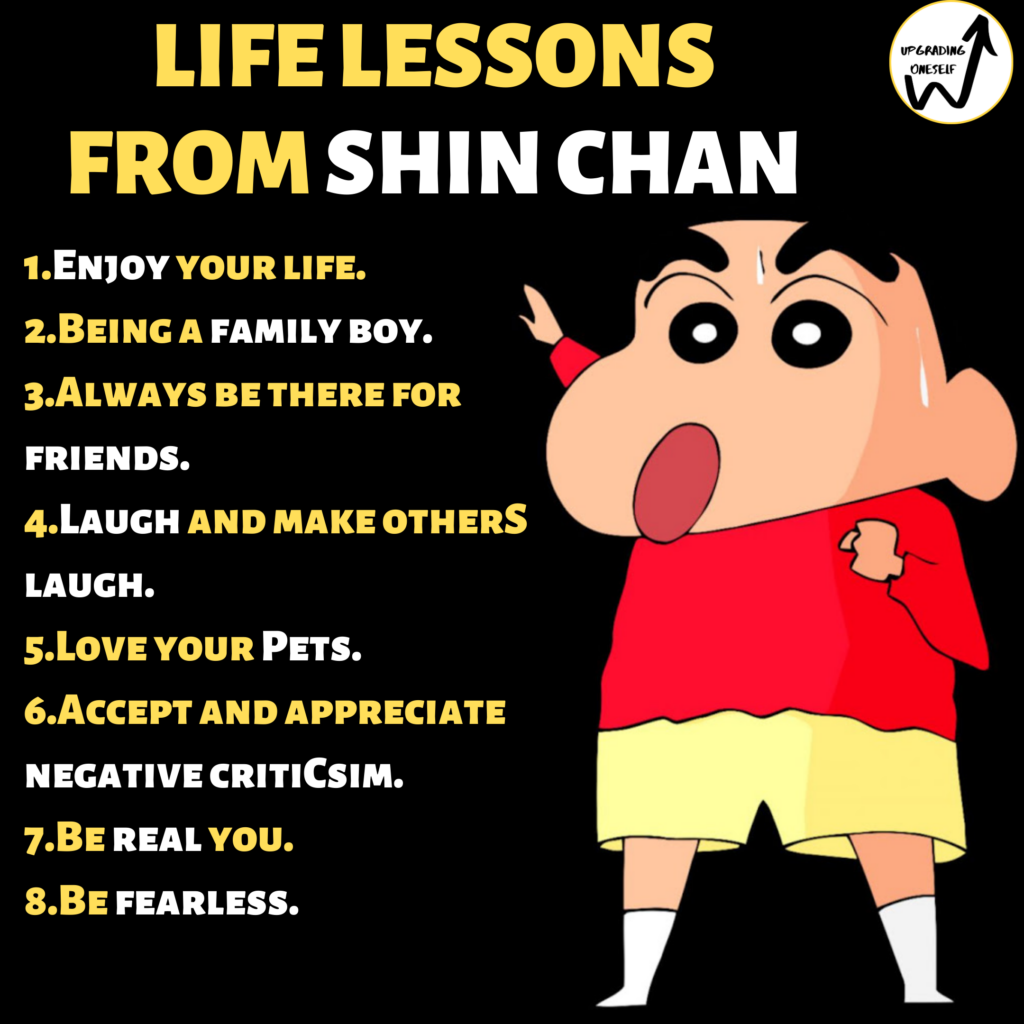 This cartoon is loved by many of us and taught us many things.
You can also check out life lessons from Tony Stark