Chhichhore was an outstanding and heart touching movie. This movie got 8.1 rating by IMDb. The movie is directed so well and we all can relate with this movie. We all remember our days of college life and all the fun we had during that time. The performance of the complete cast is just appreciable. This movie gives huge fun and also makes us emotional as well.
This movie highlights the flaws in our society. How we all just run behind the success! We just all don't want failure. "Failure" tag is just not accepted in our society. How pressured Students are from the exams and career that they forget to live a joyful life and forget to make good memories. And many more things are shown in the movie which lets us think that we are heading in the wrong direction as a society.
So let us look at the 8 Timeless Lessons that we learn from Chhichhore movie-
College life is not just about studying-
Movie shows how Anirudh in the hostel makes good friends and how he enjoys his college life with studies. Studying is the primary reason for going to college. But if you're one who is just studious, then you're missing a lot of stuff in college life. College life is also about making friends, doing funny things and making everlasting memories with them. Yes, studying is also important in your college life. But enjoy with your friends also. I assure you that it will be the best time period of your life.
Suicide is not a option-
Anirudh's son Raghav failed in the entrance exam of engineering. This was so pressured failure for him that he tries to commit suicide. When he is admitted to hospital, he battles between death and life. So, Anirudh and his college friends with Maya shares their story of how they were tagged as 'LOSERS', but suicide was never a option. Talk to your loved ones. No matter what's going on life, suicide is not the solution for it. Your life is precious, think about your family and friends.  Never ever take this step and end your problems in such a way.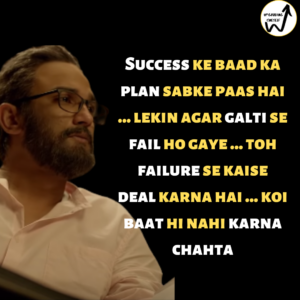 It is okay to fail-
We live in a society where everyone has plans after success. But by chance if we fail, no plans after that. Remember tags are given by society. If they think we are losers let them think. But if you think you are a loser, then you are. So it is up to us what we are. A loser is one who doesn't even try. Try best and give your efforts and if you fail at least you have experience. Failure is a lesson that we must learn.
Checkout- Why failures are important?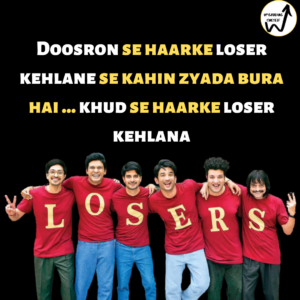 Make friends for life-
The movie's main theme is all about friendship. All his friends reunited when Ani was in trouble. College life is such a time where we can make the right or wrong friends for life. If you choose the right friends you will head in the right direction in life. Friends are always your family.
Appreciate efforts whatever the result may be-
 In the movie where after so many efforts, Ani's team H4 loses. But the opposition team H3 leader Raghuvir cheers for their efforts for giving a good fight to them. This is what we must always do instead of judging the result. One must not judge the result instead we must appreciate whatever the result might be. Failure is equivalent to success. Appreciate the efforts put forth by the person.
Exams don't decide what your life would be-
Students are so pressurized for exams that they think that we will be successful if we pass the exam or we are losers if we fail. This wrong misconception is in most students minds. This movie beautifully shows this misconception in the student mind. It is okay if you fail the exam. Exams are not the result of your whole life. Marks don't matter. So, if you fail the exam , don't worry, there are plenty of opportunities in the world. Don't let just a single exam decide whether you are a failure or successful.
Relationship can't be such broken that it cannot be fixed-
The love chemistry of Ani and Maya was really good in the movie. As life goes on the small fight's between them separate both of them but they come together again because his all friends make both realize that any broken things are not that broken that it cannot be fixed. We all face similar issues like fights, problems,ego ,etc. But saying sorry, letting off your ego, solving problems together will solve all your issues. Understanding each other is really important to make a strong relationship.
Live your life fullest-
We are running behind doing our work blindly and we are forgetting to spend time with family and friends. For work sake, we don't travel or do things that we love. Work is all we are doing every day. We must live our life and enjoy it. Life is a journey which is to be balanced with work and happiness. Sometimes it is okay to take a break from work and relax. Life is too short so live it fullest.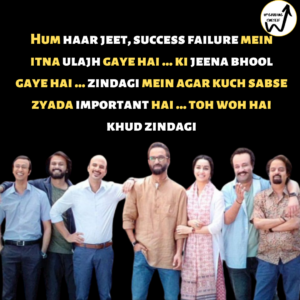 These were 8 timeless lessons that we learn from Chhichhore. This movie is really a good movie dedicated to all students. This movie makes us replenish all the memories we make with our friends and so much fun we had together. A must watch film for everyone.
It was really saddening news about Sushant Singh Rajput's death on 14 June 2020. May his soul Rest in peace. We appreciate your efforts for making such a wonderful movie.
Related- Check life lessons from Rajnikant