Judy Hopps is one of the main protagonists of the Zootopia movie. She is a small rabbit and the first rabbit cop in the town. She is a lovely character who aims to grow in life. Let's explore the best quotes from Judy Hopps that will inspire you…
Best Judy Hopps Quotes
1. I am not a dumb bunny.
2. Tomorrow's another day.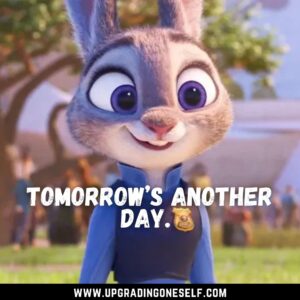 3. Oh. Then, I guess I'll have to be the first one. Because I am gonna make the world a better place!
4. I have to fix this. But I can't do it without you. And after we're done, you can hate me, and… and that'll be fine, because I was a horrible friend, and I hurt you, and you…
5. Nick you're so much more than that.
Inspiring Quotes From Judy Hopps Of Zootopia
6. The only thing we have to fear is fear itself.
7. Life's a little bit messy. We all make mistakes. No matter what type of animal you are, change starts with you.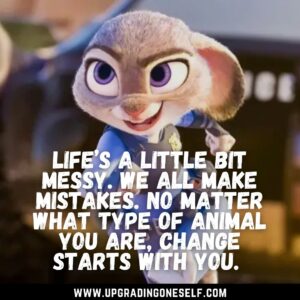 8. We all have limitations, we all make mistakes, which means – hey, glass half full! – we all have a lot in common. And the more we try to understand one another, the more exceptional each of us will be. But we have to try.
9. Well, he was right about one thing: I don't know when to quit!
Funny Judy Hopps Captions
10. What're you going to do, kill me?
11. So that's it. Prey fears predator, and you stay in power?
12. What was it you said? 'Any moron can run a plate'? Gosh, if only there were a moron around who were up to the task.
13. A three-humped camel? Pregnant! Okay, great, we got it!
14. Oh, sweet cheese and crackers!
15. It's your word against yours.
16. Greasy walls, rickety bed… crazy neighbors. I love it!
Other Quotes From Judy Hopps
17. No! Nick! Don't do this! Fight it!
18. What is your problem? Does seeing me fail somehow make you feel better about your own sad, miserable life?
19. Sir, I'm not just some token bunny.
20. Thank you for the opportunity.
Final Words
These were the best quotes from Judy Hopps. We hope you loved this article and share it with your friends who loved the Zootpia movie.
You can also explore quotes from characters like-