Technoblade was an American YouTuber and an Internet personality known for his Minecraft videos and live streams. He is regarded as one of the best Minecraft Players. Here are the best quotes from Technoblade for motivation…
Best Technoblade Quotes
1. The important thing is we've got the epic team-up of Tubbo, and everybody that's murdered Tubbo in the past. ~Technoblade
2. Most opportunities are created by luck. It takes skill to grasp those opportunities and turn it into success. ~Technoblade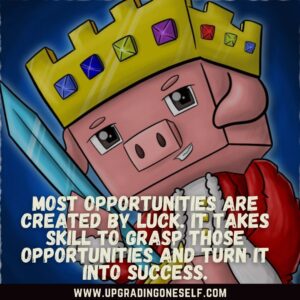 3. I don't think party games are about winning, I think it's about winning as much as possible to absolutely demoralize your enemies. That's what it's all about. ~Technoblade
4. People that say that violence is not the answer, I think they're just not that good at violence. ~Technoblade
5. I realize now that rank #1 isn't an achievement; it's a prison which forces you to dedicate your life to defend a temporary title ~Technoblade
6. I have 924.000 intelligence, finally I can understand Rick and Morty! ~Technoblade
Epic Technoblade Captions
7. We got the dirt channel member bell. Alright, give me a second to make vast quantities of money. ~Technoblade
8. Subscribe to Technoblade, I'm trying to get 10 million subscribers. Please I upload once per month, I deserve it, I work very hard. I log in once per month, alright it's very difficult. ~Technoblade
9. My property value is going into the gutters right now man, it's getting obliterated. ~Technoblade
10. No matter how ridiculous the odds may seem, within us resides the power to overcome these challenges and achieve something beautiful. ~Technoblade
11. You know we could fix global warming if we blew up the sun. Globe would cool right off. Just an idea. Consider it. ~Technoblade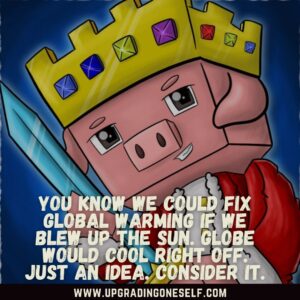 12. All the voices are agreeing with me right now, I think that you're a little bit weird. ~Technoblade
13. Superman's parents are so dead that he got new parents and then they died. ~Technoblade
Funny Quotes From Technoblade
14. The important thing is we've got the epic team-up of Tubbo, and everybody that's murdered Tubbo in the past. ~Technoblade
15. I think the moral of this story, is that at the end of the day, sometimes the best camouflage, is not hiding directly next to a man wearing a bright blue sonic onesie! ~Technoblade
16. I can't wait to claim the whole world and tell everyone to hippity hoppity get off my property.
17. Look, I'm an atheist, but when God sends me to Hell I want him to hesitate.
18. Finally the next election began, the first candidate was Dante, the second, Dante, the third, fourth, fifth? It was all Dante! The age of Dante had begun!
19. I'm so used to being a wanted criminal, but I got rid of the country that had a bounty on me, and now all my problems are solved.
20. Christmas, canceled, Halloween, canceled! Things were getting canceled so fast, people thought it was Twitter.
Final Words
These were the best quotes from Technoblade. Hope you liked this article and make sure to share it with your friends.
You can also check out quotes from-