Mahendra Singh Dhoni is a man from a small town who made every Indian proud at the global level by his amazing batting style, wicket keeping as well as captainship. He was born on 7th July 1981.
MSD was the only captain in Indian history to win all the ICC Trophy. He is recognized as one of the most successful captains in the cricket world.
Checkout- The success story of Dhoni
He announced his retirement on 15th August which left his fans heartbroken.  Here are some of the iconic quotes from the legend MS Dhoni-
Leadership is the capacity to translate vision into reality.
You don't play for the crowd; you play for the country.
Gut feeling is all about the experiences that you have had in your life. It is about being in difficult scenarios, knowing what worked, what did not work, and then taking a decision.
If you don't really have a dream, you can't really push yourself, you don't really know what the target is.MSD
I believe in giving more than 100% on the field, and I don't really worry about the result if there's great commitment on the field. That's a victory for me.
Till the full stop does not come; the sentence does not complete.
It's important to learn and not make the same mistakes, what's done is done.
Take action in silence, No lion attacks in noise.
Face the failure, until the failure fails to face you.
The process is more important than the results. And if you take care of the process, you will get the results.
Forget Fear, Do Something Different.
One Day Reality Will Be Better Than Your Dreams.
Life may have its bad days which leave you feeling demotivated, But don't you worry! Always Remember That:
"PICTURE ABHI BAAKI HAI MERE DOST".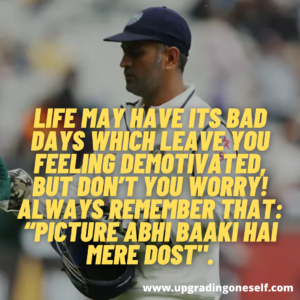 You learn a lot more when you're going through a rough period compared to the good times when everything goes your way.
If you keep winning, you don't know the areas you've to work hard.
These were the inspiring quotes from Captain Cool- MS Dhoni. Dhoni is one of the most successful Indian cricket team captains and he is a role model for many of us.
Related-