Nacho Libre is a sports comedy-drama movie based on real life. It is the story of a monk who is hiding as a professional wrestler to earn money to help orphans with their needs. Here are the best quotes from the Nacho Libre for a dose of motivation-
Best
Nacho Libre Quotes 
1. I am the gatekeeper to my own destiny and I will have my glory day in the hot sun.
2. Those men fight for vanity, for money, for false pride.
3. I don't believe in God. I believe in science!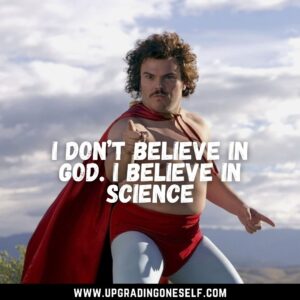 4. Oh, you messed with the wrong guy this time!
5. My life is good, really good. I get to wake up every morning, 5 AM. Make some soup! It's the best! I love it.
6. When the fantasy has ended, and all the children are gone, something good inside of me helps me to carry on.
7. If you fight for something noble, or for someone who needs your help, only then will God bless you in battle.
8. I don't want to get paid to lose! I wanna win!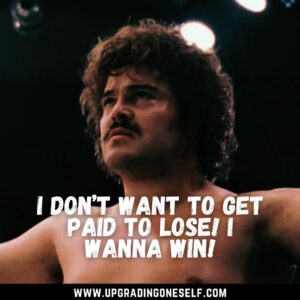 9. I get to lay in a bed by myself, all of my life. It's fantastic.
10. Okay. Maybe I am not meant for these duties. Cooking duty. Dead guy duty. Maybe it's time for me to get a better duty!
11. In order for you to become empowered by the eagle, you must climb that cliff, find the egg, crack open one of them, and then eat the yolk.
12. Wrestling is ungodly, Ignacio. People cheer for him and he is a false idol.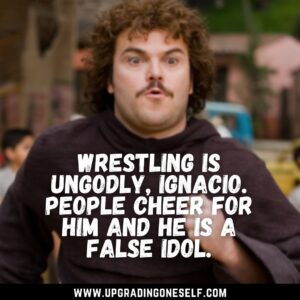 Final Words
These were the best quotes from the Nacho Libre movie. Hope you liked this article and make sure to share it with your friends.
You can also check out quotes from movies like-