Eren Yeager (Eren Jaeger) is one of the main characters of the Attack of Titans anime. He is a teenager who swears revenge on enormous creatures called Titans who kill humanity. Here are the best quotes from Eren Yeager that will give you a dose of motivation-
Best Eren Yeager Quotes
1. If you think reality is just living comfortably and following your own whims, can you seriously dare to call yourself a soldier?
2. Nothing can suppress a human's curiosity.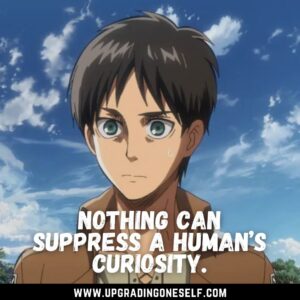 3. What is the point if those with the means and power do not fight?
4. I don't have time to worry if it's right or wrong, you can't hope for a horror story with a happy ending.
5. I have to be the one to do this! I've got to settle this.
6. If you win, you live. If you lose, you die. If you don't fight, you can win.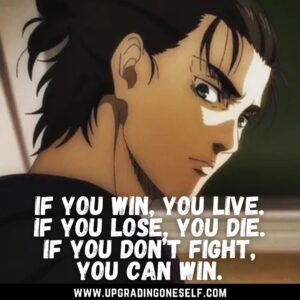 7. I want to see and understand the world outside. I don't want to die inside these walls without knowing what's out there!
8. I'll slaughter you all…and take back what you stole… All of it!
Badass Eren Yeager Quotes & Captions
9. I knew… you were more of a hero than anyone else.
10. I can do this. No, we can do this! Because we've all been special since the day we were born. We're free!
11. No matter how messed up things get, you can always figure out the best solution.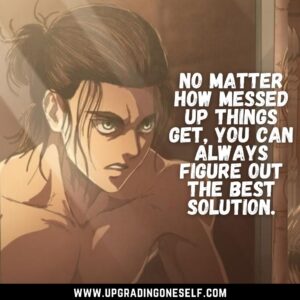 12. I disposed of some dangerous beasts. Mere animals that just happened to resemble humans.
13. You have the Freedom to defend the world's freedom and I have the freedom to continue moving forward.
14. You're not soldiers. You're not warriors. You're just Murderers.
15. I'll kill every last one of them and break free of these walls!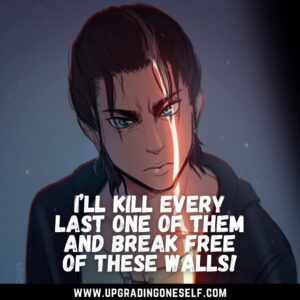 16. You don't get it. You've never seen it!
17. Fight to live, risk it all for even a glimmer of real freedom!
18. On your feet, Dad. You're not done yet.
19.  How come you get looked down upon just for saying you want to go outside?
20. What are you going to do if the ones with the strength don't fight for you?
21. All this time… in here… alone?
Eren Jaeger Quotes About Life
22. There is no way I could ever accept a plan so messed up like that.
23. Armin…because you told me about it… I'm going to go…to the outside world.
24. My goal is to protect the people of Paradis. The place I was born and raised.
25. I believe my squad will be victorious! Fight well!
26. It's humanity's turn now.
27. This time around mankind will feast upon the Titans!
28. We're born free. All of us. Free. Some don't believe it, some try to take it away. To hell with them!
29. I will wipe the Titans out and leave the confined walls to explore the outside world.
30. Stupid? People who are content living like livestock are more stupid!
Final Words
These were the best quotes from Eren Yeager. We Hope that you  loved this article and make sure to share it with die-hard fans of Attack On Titan anime.
You can also check out quotes from-